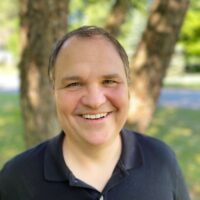 Winn Collier
Director, The Eugene Peterson Center for Christian Imagination, Western Theological Seminary
Winn Collier, a pastor for 26 years, was the founding pastor of All Souls in
Charlottesville, Virginia. Winn now serves as Associate Professor of Pastoral Theology
& Christian Imagination and as Director of the Eugene Peterson Center for Christian
Imagination at Western Theological Seminary in Holland, Michigan. Winn received his
PhD in religion and literature from the University of Virginia and is the author of five
books, including Love Big, Be Well: Letters to a Smalltown Church and A Burning in My
Bones: The Authorized Biography of Eugene Peterson. Winn has written for Christian
Century, Christianity Today, The Washington Post, and numerous other outlets. Winn and
his wife Miska (a spiritual director and yoga teacher) have two sons and a dog Gus (nod
to St. Augustine) and are planning their next walking tour in Ireland. In what now seems
like a previous life, Winn was a broker and IPO specialist with Charles Schwab.