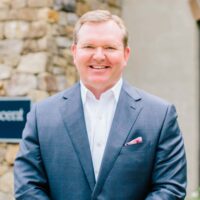 Harry Pearson
CEO, OneAscent
Harry Pearson is Co-Founder and CEO of OneAscent. With nearly 24 years of experience, Harry is passionate about serving families by encouraging generosity and faithful stewardship. As a Certified Kingdom Advisor®, Harry leads a monthly study group and uses biblical principles to guide his approach with clients.
After obtaining a B.A. in Finance from the University of Alabama at Birmingham in 1996, Harry joined Ameriprise in early 1997. In 2002 he opened his own Ameriprise franchise, which expanded to include five advisors, five support staff, and offices in both Birmingham and Huntsville. Feeling led by the Lord to have a greater Kingdom focus with his practice, Harry founded OneAscent in 2017 to assist his firm and others across the country to advise with values-aligned, Kingdom-driven excellence. Harry has both Certified Financial Planner™ and Chartered Retirement Planning Counselor℠ (CRPC®) designations and was appointed to the Ameriprise Chairman's Advisory Council from 2012 to 2014.
Harry is an active member of Oak Mountain Presbyterian Church where he has served in a variety of leadership roles, including as an ordained ruling elder since 2007. Harry and his wife Laura, have been married for 28 years. They have four adult children and five grandkids.