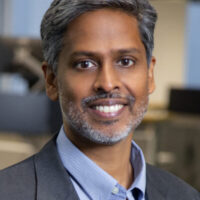 Finny Kuruvilla
Co-Chief Investment Officer & Founding Member, Eventide Asset Management
Finny Kuruvilla, MD, PhD, serves as a Co-Chief Investment Officer, Senior Portfolio Manager for Eventide's mid-cap growth and healthcare & life sciences strategies, including the Eventide Gilead Fund and the Eventide Healthcare and Life Sciences Fund, a Managing Director for Eventide's private fund, as well as Founding Member of Eventide.
Dr. Kuruvilla has a background in healthcare, statistics, and investing. Concurrent with his early years at Eventide, he was a Principal at Clarus Ventures, a healthcare and life sciences venture capital firm subsequently acquired by Blackstone. Earlier in his career, Dr. Kuruvilla was a postdoctoral research fellow at the Broad Institute of Harvard and MIT, where he led the development of a new microarray between the Broad Institute and a publicly-traded company Affymetrix. Prior to his investing career, Dr. Kuruvilla was resident, chief resident, and fellow at the Brigham and Women's Hospital and Boston Children's Hospital.
Dr. Kuruvilla holds an MD from Harvard Medical School, a PhD in Chemistry and Chemical Biology from Harvard University, a SM in Electrical Engineering and Computer Science from MIT, and a BS in Chemistry from Caltech.